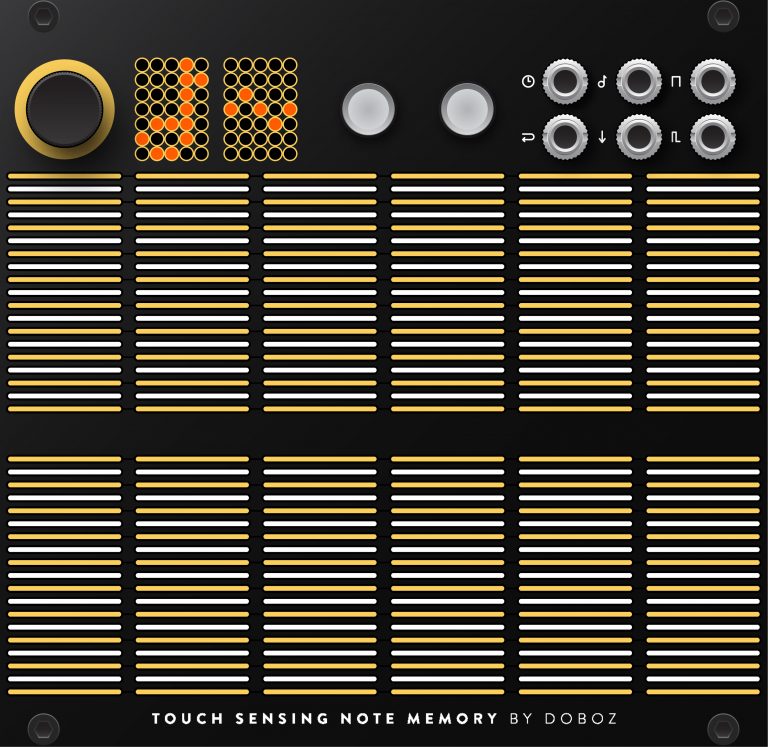 Touch Sensing Note Memory MKII is the second incarnation of TSNM in Eurorack format. Transposition plates have been replaced by illuminated pushbuttons, thereby freeing up some space for two more note plates. The module does not require external 5V power source anymore, and the footprint for the MPR121 breakout board now accepts the ones made by Adafruit also. The panel got narrower by 2hp, now comes with matte black finish and gold plated holes over the LED display for better visibility. Firmware v4.0 introduces some new features:
– new internal structure (keyboard > arp > sequencer > quantiser > portamento > vibrato)
– internal clock
– individual clock multiplication/division for arp and sequencer
– pressure controlled transposition
– improved arpeggiator algorithm
– rhythm sequencer for arpeggiator
– gate types per step (ratcheting) for note sequencer
– new and improved recording mode for note sequencer with overdubbing
– pressure output can act like a proper AD, ASR or looping AD envelope generator
– internal modulation options for various parameters of envelope generator
– a second voltage sequencer available at pressure output
– 8 user editable scales for quantiser
– portamento (gliding) shapes
– vibrato with pressure controlled depth and 4 waveforms
– 2 note polyphony (please keep in mind that the pressure CV output has only 12-bit resolution, don't expect the same precision as for the note CV output)
TSNM is a performance oriented monophonic keyboard controller featuring 12 note plates (tuneable over 6 octaves) and two transposition buttons (variable transposition distance from -36 to +36 semitones). Highly accurate pitch (V/oct) output is guaranteed by a precision 16-bit DAC. Pressure sensing capability of note plates gives maximum human control through the dedicated CV output. On-board arpeggiator, sequencer, quantiser (with user editable scales), pressure CV recorder, envelope generator, random voltage generator, slew limiter, vibrato. The module can save 17 presets including keyboard layout, sequence and all the options under settings.
TECHNICAL CHARACTERISTICS
Width: 26hp
Maximum depth: 30mm
Power: 45mA @ +12V, 10mA @ -12V
Manual: USER'S GUIDE

THROUGH HOLE:
PCB + panel + DAC + pushbuttons
€87 (excl. shipping)
SURFACE MOUNT:
PCB + panel + pushbuttons
€79 (excl. shipping)
PREBUILT:
Fully built & calibrated module.
€279 (incl. shipping)
THT (THROUGH HOLE) VERSION
SMT (SURAFCE MOUNTED) VERSION